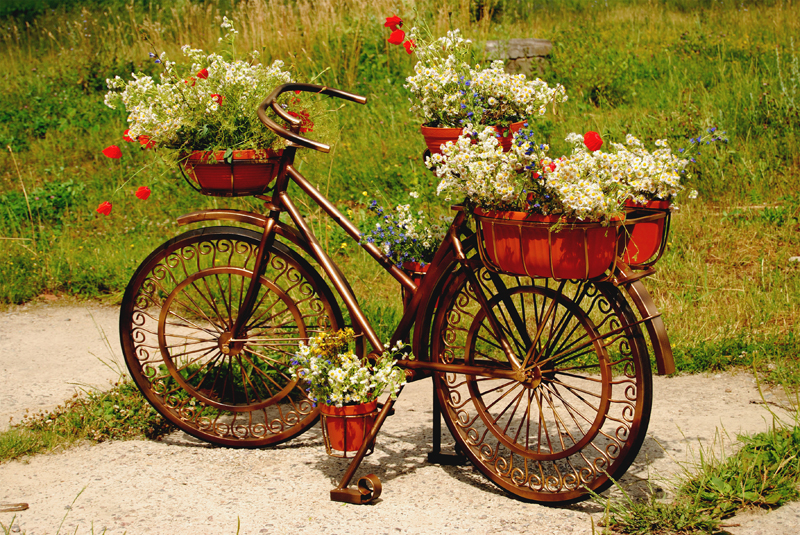 "Where you find garlic, you find good health." Spanish proverb.

Garlic has so much to commend it in the health stakes (besides being a wonderful culinary enhancer) that we should be made to grow it by law and pay tax with our produce … that way we would heal much of what's ails the nation! Another impossible dream to be sure, but hey, why not dream such a dream for some stress relief?

Look what you are in for if you get some containers going? First read how much good you can do for yourself and your loved ones and then read how easy it is to grow this remarkable plant.

Garlic has many amazing properties. It is a blood purifier, it absorbs uric acid and it is useful for high blood pressure. It is also constructive in fighting many other health conditions, like heart disease, cancer, diabetes and infections.

Garlic is a natural antibiotic and has antiseptic properties. Fresh and organic non-GMO is best. Most garlic available in the shops today has been treated for commercial reasons, it may look good, but most has been chemically sprayed to extend shelf life and 'manage' it for long distance storage and transportation for foreign markets. Who knows how compromised the quality is – it would be better grow and store your own!

Furthermore, there are several essential minerals found in garlic and all are vital to healthy living. These include selenium, fluorine, iodine, iron, zinc, copper, magnesium and germanium. It also contains many sulphur compounds, vitamins A and C, various amino acids and fibre. It is an amazing herb and with all these beneficial qualities it seems almost sinful not to grow some.

Garlic takes around nine months to mature from planting to harvest – so some patience is needed. Thing is, once you get going, the cycle becomes a habit and you will never be without your own stash of this miraculous herb. The best time to plant it is with your spring blooming bulbs, so in September/October being autumn in the northern hemisphere is right and February May in the southern hemisphere is good, but anyway before it get too cold. 'They' say you can plant garlic at any time of the year, and some garlic is better by far than no garlic, but following the natural calendar will ensure fat, healthy and delicious cloves. Moon gardener? If so plant on the root-planting days for even better results.

There are many different kinds of garlic available (elephant garlic is popular and black garlic is a current favourite) with most belonging to the Alium sativum group. To get going, buy organic starters from your local supplier and do not use store bought garlic. This is not likely to take because of its long-life treatment, the head is probably dead.

Then, there are main two types of garlic – soft neck garlic and hard neck garlic. Either grows well but soft neck garlic is more commonly grown. It has more numerous and smaller cloves with papery skin than other types and it lasts longer in storage. Purple garlic is soft-necked.

Hard neck garlic has fewer and larger cloves with less paper skin and produces scapes (garlic 'leaves' that look similar to spring onions). These scapes can be harvested and added to soups, stir-fries or salads and their removal will not harm the bulbs developing underneath the soil. White and giant garlic are hard-necked.

How to Grow Garlic in Containers.

Ts'easy oh so easy, like eating chocolate for chocoholics only, as you see above, it's far healthier!

Preparation
Prepare your containers as usual. If they have been used before, ensure they are clean (vinegar water) and that the soil is fresh.

Make sure you have drainage holes, add shards to assist with drainage, fill halfway with composty friable loamy soil, sprinkle a scant layer of bonemeal then fill the rest of the pot with soil leaving about an inch or so from the top edge free of soil. This allows for mulch and stops soil from splashing when you water.

The container you choose should be around ten inches deep. Garlic has a shallow root system so it does not need a deep pot but it does need a sunny spot to grow successfully, so place your containers accordingly.

Planting
Make 1½ inch holes around six inches apart in your container (rectangular planters or square pots are suitable) and in each hole place an organic garlic clove pointy side up, then cover with soil ad tamp down firmly.

Don't fuss about containers and shapes and all – I have grown garlic very successfully in repurposed coffee tins, one clove per tin.

Check your cloves before planting them, you don't want to plant damaged material; and then be careful not to bruise or cut your cloves while planting which might allow bacteria to cause rot to set in.

If you have a vegetable patch, just grow your garlic between them, it repels pests and it's just as simple to grow.

Sprouts should appear ten to twenty days after you have planted.

Care
Water well, especially in warm and dry conditions. The soil should always be moist, not waterlogged or the bulbs will rot.

Keep your containers free of weeds by mulching.

Use organic liquid fertilisers every two weeks throughout the growing season. You can use compost tea, worm juice, a kelp-based product or even add a spoon of molasses now and then to the water. Garlic is greedy and loves these extra treats and fertilising helps promote bulb size.

Do not allow the plants to flower. Rather let the effort put into flowering be redirected to the bulbs.

Harvest and after care
The bulbs will continue to grow through the winter and into the next spring and summer (8-9 months) when the foliage will start to dry, go brown and die down. Begin harvesting only once half have died back, you want the best bang for your bulb so don't harvest too early.

When you see it is time, stop watering and allow the soil to dry out a bit to avoid pulling out muddy bulbs.

Dig up the bulbs using a kitchen fork to help lever them out gently. It is best do this late in the afternoon.

Once harvested, your garlic should be allowed to cure before you can store it. Shake off most of the bulb dirt but do not wash them, cut off the brown leaves about an inch above the tops and trim away the roots. Place them in a cool, dry, dark and well-ventilated place for some two weeks or so.

You can use a racking shelf or you can punch holes in brown paper bags to hang them up individually. Old citrus netting bags work well too.

The bulbs will be ready (to eat or to store) when the outer skins are papery and wrinkled and when you press against the bulb and it feels hard.

Keep some bulbs for replanting in autumn.

Growing your own garlic is an easy pleasure. Besides its culinary joys it will give you an ample supply of one of the best healing herbs nature has to offer … so how can you refuse a gift like that?

What do you want your container garden to do?

You Should Also Read:
Why Garlic?
Peppers, Garlic and Cilantro for SALSA
Pest Control - GARLIC SPRAY


Related Articles
Editor's Picks Articles
Top Ten Articles
Previous Features
Site Map





Content copyright © 2023 by Lestie Mulholland. All rights reserved.
This content was written by Lestie Mulholland. If you wish to use this content in any manner, you need written permission. Contact Lestie Mulholland for details.