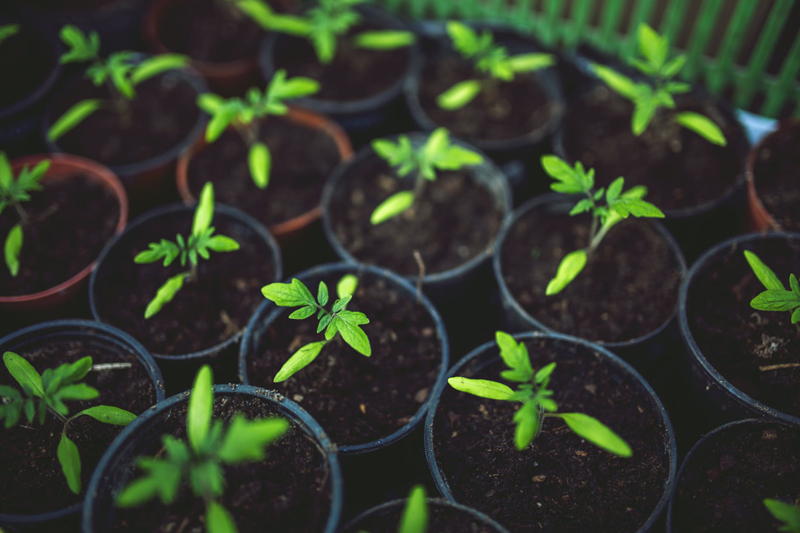 The basics of gardening, from terminology to growing zones.
Fall Gardening To-Do List


Tips on how to get your garden ready for winter and the following spring.
Five Basic Garden Tools


Did you know that you only need five basic tools to garden? Although there are hundreds of garden tools, finding the right ones for you and your garden, isn't difficult. It is far harder trying to decide what you want to plant in your garden every year.
Gardening's Renewed Popularity


Rising food prices, economic uncertaintly, and concerns about the environment are all contributing to gardening's renewed popularity.
Getting Control of Bermuda Grass


Tips on how to keep Bermuda Grass out of your gardens
Getting Rid of Snails and Slugs


If you are looking for a humane and non-toxic way to rid the garden of snails and slugs, there are some things you can do.
Growing and Tasting Edible Flowers


You might be surprised by just how many flowers in your garden are edible. Learn more about which flowers are edible how they taste.
Growing Garlic


Plant garlic in the fall and harvest the bulbs next year. Garlic takes certain growing conditions and a year to grow before you can dig it for use.
How To Buy Plants For Your Garden


This guide will show you how to get the best plants for your money. Learn how to choose the healthiest plants and insure success in your garden!
How to Grow Horseradish


Horseradish is easy to grow. When added to your favorite recipes it gives your food some zip.
How to Make A Raised Bed


Raised beds are the perfect place to grow your plants. Because they are higher off the ground, they have a little more protection from frost. Making your own raised bed is not hard to accomplish either.
How to Prepare the Garden Soil Part II


For a great gardening experience and lots of delicious fruits and vegetables, you need to test the soil and start a compost pile.
Must Have Garden Tools


There are so many choices for garden tools. Do you need them all? Absolutely not. Just a few well-chosen ones will keep you gardening for years.
Natural Ways to Protect and Nourish Your Garden


A guide to ways you can protect and nourish your garden without harsh chemicals.
Planting Cilantro

Fall is the time to plant Cilantro. Well, that is if you live in zones nine and ten.
Planting Strawberries


How can you plant a new and productive strawberry bed? In many attempts to keep a strawberry bed, this is what I have discovered that works the best.
Poinsettias for Holiday Color


Poinsettias add bright, cheery color to holiday decorations. This article explains how to choose and care for the vibrantly colored plant.
Protecting Your Plants from a Spring Freeze


Ideas and solutions for protecting your plants from frost or freezing due to a spring frost.
Seed Starting Basics


An introduction to seed starting and what to do to maximize success!
September's To-Do List


Labor Day is coming up and we know that means that summer is over. But there are still some things to be done in the garden in preparation for cold winter months.
Soaking Watermelon Seeds In Milk


The growing season in South Dakota is short and our plants need a head start in order to grow and produce. The trick of soaking the seeds in milk seems to make them think they were in the ground longer.
Things to Do In March Before You Garden Outdoors


If you want to plant a garden, now is the time to really start planning and buying seeds. It is easy to start seed indoors, so the plants will be ready to grow outdoors when the soil warms.
Understanding Basic Planting Terminology


Do you love looking through seed catalogs but have no idea what they are talking about? This article takes you through the basic terminology that will help you know when where and how to plant your seeds.
Vegetable Gardening Tips


If you are planting a garden again this year, there are some things you should keep in mind while your garden is in the planning stages. By making a few changes, you will have a better, more productive garden.
What's the Difference between Annuals, Biennials and Perennials?


Are you a beginning gardener and don´t know the difference between an annual and compost? This article explains the difference between the three basic types of flowers and how to use them all to have season long color in your garden.
Worm Farming - Using Vermiculture to Recycle


Instructions on building and maintaining a worm farm
Editor's Picks Articles
Top Ten Articles
Previous Features
Site Map
Content copyright © 2018 by . All rights reserved.
This content was written by . If you wish to use this content in any manner, you need written permission.
Contact Gail Delaney for details.