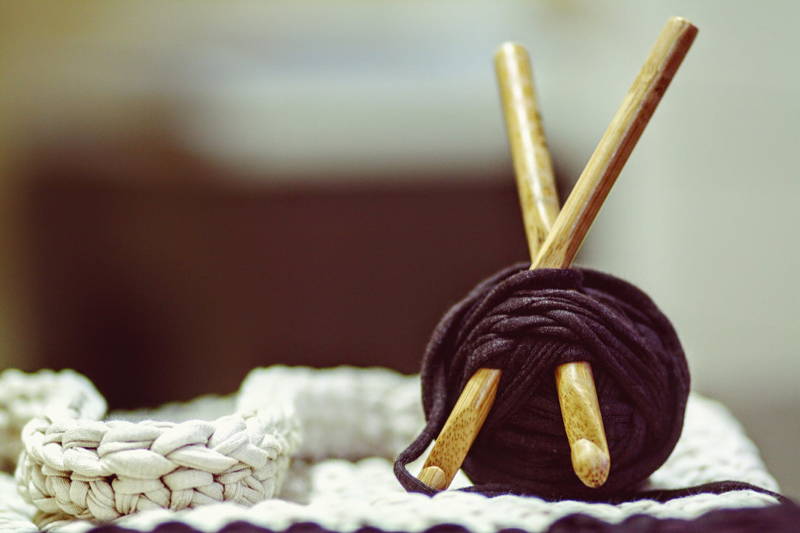 There are many wonderful books of crochet patterns available. Here, the crochet editor makes her recommendations and gives honest feedback about the books she´s used.
9 Months to Crochet - Maaike van Koert Book Review


Book Review of 9 Months to Crochet by Maaike van Koert
Big Book of Crochet Stitches Book Review


The Big Book of Crochet Stitches: Fabulous Fans, Pretty Picots, Clever Clusters and a Whole Lot More is an excellent resource book for any crochet enthusiast to have in his or her repertoire.
Book Review: 200 Braids to Twist, Knot, Loop or Weave


How about making braids to decorate your Crochet, perhaps to make a drawstring for a bag, or cord to tie a baby jacket. This book contains instructions for 200 braids - and provides lots of inspiration to bring something different to your Crochet.
Candy Crochet Book Review


Anyone familiar with Candi Jensen's designs will know her combination of cute yet practical clothes. In her latest book, Candy Crochet, Candi Jensen presents us with 50 designs.
Chicks With Sticks Crochet Book Review


Chicks With Sticks is book that sets out to prove that 'anyone can crochet'. Instruction and projects are combined to give an interesting yet informative read. Find out more in this review.
Crochet Jewelry 40 Unique Designs Book Review


Crochet Jewelry: 40 Unique Designs is an exciting new book, offering something a little different to crocheters looking for a new challenge. Working in a variety of materials including threads, yarns and wire there is likely to a project here to meet the needs of most crocheters.
Crochet Me Book Review


Crochet me, Designs to Fuel the Crochet Revolution, is the long awaited book from the popular crochet website.
Crochet Obsession Turned Passion


Sometimes an obsession can turn into your greatest pleasure.
Crochet Red Book Review


Crochet Red: Crocheting for Women's Heart Health is part of a family of books created to promote the Stitch Red campaign, which educates women about heart disease and how to take control of their heart health. There are 31 patterns and a good mix of skill levels, patterns, and yarn types.
Crochet! by Marie-Noelle Bayard Book Review


Review of the book Crochet! Techniques, Stitches, Patterns by Marie-Noelle Bayard
Crocheting on the Edge - Nicky Epstein Book Review


Crocheting on the Edge by Nicky Epstein is filled with ideas for crochet designers at any level of technique, as well as patterns for finished products.
Double Stitch - Book Review


This is a review of Double Stitch: Designs for the Crochet Fashionista. This book is packed full of interesting and unique crochet designs and projects.
Easy Crocheted Hats and Scarves Book Review


Add a touch of color and texture to your fall and winter wardrobe with these crocheted hats and scarves that are fun to wear or make as gifts.
Get Hooked Again Book Review


Get Hooked Again by Kim Werker is the follow up to Get Hooked, the popular crochet book for teenagers.
Hooks and Wool and Projects, OH MY


Yarn Superstitions associated with your crocheting that may or may not still be believed by many today.
Modern Baby Crochet Book Review


In Modern Baby Crochet: Patterns for Decorating, Playing, and Snuggling, Stacey Trock presents us with current designs in bold, pastel and neutral colors for the nursery. If you enjoy creating projects other than layettes for babies, then this is the book for you.
Patons Canadiana-yarn review


A personal look and review, of Patons Canadiana yarns, after working with it.
Positvely Crochet by Mary Jane Hall Book Review


This is a review of Positively Crochet, the latest crochet book by Mary Jane Hall. The book contains 50 crochet projects.
Pretty as a Picture-Book Review


Personal review of Pretty as a Picture, book of filet afghans, produced by American School of Needlework.
Review : Couture Crochet Workshop, by Lily Chin


The latest book by Lily Chin, Couture Crochet Workshop, is an excellent book for Crocheters of all abilities. In the book Lily shares with us hints and tips about garment design, full instructions for 24 projects and a wealth of hints and tips. In this article I review the book in more detail.
Review of Boye CrochetMaster Hook Set


The Boye CrochetMaster Set includes a range of Steel and Aluminum Crochet hooks in a zipped case.
Review of SINGLE CROCHET from A to Z


Review of: SINGLE CROCHET from A to Z SAMPLER AFGHAN by Bendy Carter. Learn new stitches and make an afghan with the sampler blocks.
Super Stitches Crochet Book Review


Super Stitches Crochet, a dictionary containing over 180 crochet stitches and techniques, is reviewed in this article. Find out more about the book and whether it will be right for you.
Trendsetting Totes-Book Review


My personal review of the book Trendsetting Totes-published by American School of Needlework
Vintage Crochet by Susan Cropper


A review of the new book, Vintage Crochet, by Susan Cropper.
Vintage Modern Crochet - Robyn Chacula Book Review


Review of the Interweave book by Robyn Chacula focusing on crochet lace women's fashion.
Wild Stitches Software Review


A brand new knitting and crochet design software package has just been launched. This has been developed by the creators of the popular sewing pattern design package, Wild Ginger. This is particularly interesting and there are several neat features which will be of interest to crocheters.
Wild Stitches Stitch Kitty and Designer

Editor's Picks Articles
Top Ten Articles
Previous Features
Site Map
Content copyright © 2018 by . All rights reserved.
This content was written by . If you wish to use this content in any manner, you need written permission.
Contact Holly Messenger Aamot for details.