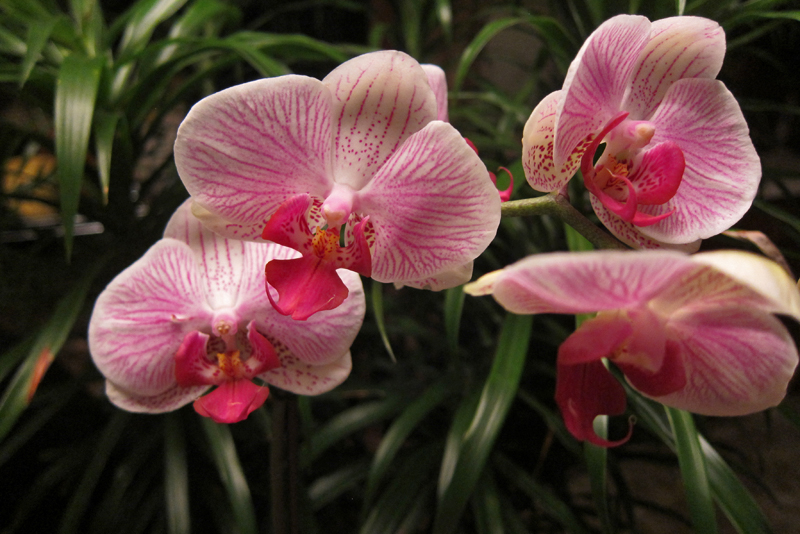 General information about orchid culture and specific sections for Cattleyas, Phalaenopsis, Slipper Orchids, Methods of growing orchids, outdoor orchid culture
An Orchid Grower's Resolutions


New Year´s Resolutions for orchid addicts
Aphids and Orchids


Orchids thrive in an environment which is also conducive to the growth of aphids. Read on to know more about the various aspects of aphids infestation, damage caused and control.
Blue Orchids


Vandas, Dendrobiums and Cattleyas are three of the genera which show blue color.
Cattelyas - General Information


Cattleyas are available in all sorts of sizes, large as well as miniature. With many natural, and many hybrids Cattleya orchids are somewhat easier to grow than many other orchids available in the market. Read on to know more on Cattleyas.
Cattleya Orchids


Specific links and articles on Cattleyas for beginners to experienced growers.
Cheaper Alternatives Ingredients In Mericloning


Producing orchid mericlones can be a costly affair. Mainly because many ingredients used in the technique are quite expensive. Agar-agar, a major ingredient, is one such expensive compound. However, tissue culturists have come up with a number of cheaper alternatives to it, some of these are listed
Coconut Husk Chips (CHC)


Coconut Husk Chips (CHC) are one of the newer mediums used by orchid growers.
Controlling MealyBugs on Orchid


It is now mealybugs turning up to trouble me and my plants. Some of you could be facing the same problem. Let me help you on how to get rid of these persistent pests.
Controlling Summer Pests of Orchids


Summer is the season of growth for many orchids ... and most of the pests too. It is helpful to know about the damage caused by these pests and their effective control. Read on to know more.
Controlling the Flowering in Orchids


The flowering in orchids can be manipulated. They can be made to flower or the flowering can be inhibited by a number of factors. Read on to know more.
Cymbidium Orchids


Cymbidiums are the best selling orchids after the Phalaenopsis. They are prized for their long lasting blooms and beautiful foliage.
Cymbidium Orchids


Cymbidiums are one of the most popular winter orchids.
Diatomaceous Earth


Use DE as a preventative measure to keep down insect and snail populations in orchid medium.
Different ways to grow orchids


A collection of articles and information about growing orchids.
Effect of Low Temperatures on Orchids


Exposure to low temperatures can harm the orchids. I have mentioned symptoms, prevention and cure of cold related injuries in this article. Tropical orchids need to be protected more than temperate orchids, check the article to know why.
Egg Shells for Orchids


Using eggshells as fertilizer for your orchids.
Enhancing the Life of Your Orchid Flowers


Many times we wish for our favourite orchid flowers to lasted a bit longer. Can the flowers be made to last for a longer time? Yes, they can be. Find out the different ways by which life of orchid flowers can be enhanced.
Enough Light for Orchids


Are you giving your orchids enought light to re-flower? Here´s some advice on what you should be doing.
Fertilizing With Milk


Using milk as a fertilizer for orchids, let's check whether milk is any good or is it just a new fad.
Foliar Feeding for Your Orchids


Foliar feeding is one way to ensure that your orchids get the nutrition that they need to grow and flower for you.
Give Your Orchids a Winter Boost


Clean up your orchid plants so they can grow better.
Greenhouse Information


Article and links a related to greenhouse construction, maintenance and upgrade.
Growing Miltoniopsis Orchids


Miltoniopsis or pansy orchids can be grown indoor under the right condition. How to grow these beautiful orchids.
Growing Mounted Orchids


Grow your orchids the way nature intended for them to grow -- mounted.
Growing Orchids in Summer


Summers is a good time for orchids. Check out how to take care of your orchids in this season.
Growing Orchids Semi-Hydroponically


Semi-hydroponics is a method of growing orchids which is gaining popularity. Here's the information on what it's all about.
Growing Orchids Under Lights


Growing under lights is becoming more popular for those who do not have the opportunity to grow outdoors or in a greenhouse.
Growing Tips


Common sense tips from experts and amateurs on making life easier for orchid growers.
Hardy Species of Orchids from South Asia


South Asia orchids species which are hardy and capable of surviving on a wide range of climatic conditions.
Integrated Pest Management and Orchids


Using the concepts of IPM can help you become a better grower.
Maintaining A Terrarium for Orchids


Keeping your plants happy in a terrarium is easy!
Making Cocopeat From Coconut Husk


An article about a cost-effective method of making cocopeat.
Methods of Orchid Multiplication


The orchids we possess can be multiplied by different ways. What are these?
Mini-Slipper Paphiopedilum Orchids


One of the newer trends in orchids is the miniature slipper orchid. New breeding is producing small plants with very cute and long lasting blooms.
Miniature Orchids


Descriptions and cultural information on growing a number of miniature orchid species.
Misting Systems


Misting systems can provide extra cooling in your growing areas for those hot times during the summer months.
Orchid Diseases


Orchids are subject to rots and viruses. Here is some information to help you identify and treat your plants.
Orchid Flasking


Orchid seeds are grown in flasks to get them started. Why are they so different from other plants?
Orchid Leaves turning Brown


Orchid leaves can turn brown due to a variety of reasons and causes. Here is a short list of how and why the leaves get the brown colouration as well as its prevention and cure.
Orchid Mericlones


Something about the orchid mericlones: what are mericlones? How are these produced?
Orchid Mericlones - Why go for this method?


Are mericlones good or are they useless? Read on about the pros and cons of mericloning.
Orchid Viruses


Orchid viruses are widespread and often found in individual collections. Learn how to spot them and test for them.
Orchids And The persistent Whitefly


Every day, since the advent of summer, it has been a battle between me and the whiteflies. But now finally they are gone. Here's how I finally did it!
Outdoor Orchid Culture


Links to sites describing outdoor orchid culture in many areas of the country.
Outdoor Orchid Growing Areas


Here are some ideas for getting an outdoor orchid growing area ready for your plants once the weather has moderated.
Pest Bugs on Orchids


Unless you're extremely lucky, you're eventually going to get some kind of pests on your orchids. Here is information on the most common and how to get rid of them.
Propagating Orchids


General articles and links on how to grow orchids on mounts, in terrariums, hydroponically, etc.
Rots to watch for in Orchids


Orchids are hardy and fairly easy to grow, but one thing that you need to watch for is rot. Here is information about two of the most common rots.
Scale Insects-Infestation and Control


Scale insects can cause a lot of damage to your orchids. If infected, timely control is the only option to save the orchid.
Setting Up a Terrarium for Orchids


Many growers are now setting up terrariums to control the conditions better for their indoor orchids -- here´s how to get started
Shifting Your Orchid Outside


Though orchids are quite adaptable, still they require time and care to acclimatize. When you shift orchids outside you need to be careful about a number of things. Read on to know more.
Snails and Slugs on Orchids


How to deal with slugs and snails in the garden and in your orchids. Now is the time to get rid of any unwanted visitors before you bring in your orchids.
Some More Winter Flowering Orchids Species


A list of orchids which flower in winters.
Sphagnum Moss


Sphagnum moss is one of the more useful kinds of media to use with orchids. Learn a bit more about this amazing moss.
Spider Mites on Orchids


Spider mites are a serious pest for orchids especially for thin-leafed varieties such as Dendrobiums.
Staking Orchid Flowers


How should you stake that inflorescence to best show off your flowers?
Symptoms of Pests and Diseases in Orchids


A diseased orchid will show symptoms of pest infestation and knowing about these symptoms will help you in finding out which pest is troubling your orchid.
The Missing Scent Of Orchids Flowers


Orchids are known for their amazing floral fragrances, but some times the flowers stops producing these scents. This article searches for the possible reasons why these flowers stops production of their signature scents.
Watering Orchids


Water requirements of orchids have puzzled orchid growers for long. How to water an orchid? How much to water? When to water? This is decided by a number of factors. What are these, read the article to know more.
Whitefly Infestation


Whiteflies are one of the persistent pests that start appearing on orchids from late spring or early summers. Some tips how to get rid of the pest.
Windowsill Growing Basics – Light


Growing orchids on windowsills requires that you understand how much light they need.
Windowsill Orchids Basics - Humidity


Growing orchids on a windowsill is becoming a more and more popular. Good humidity and air circulation are necessary to keep your plants happy.
Editor's Picks Articles
Top Ten Articles
Previous Features
Site Map
Content copyright © 2018 by . All rights reserved.
This content was written by . If you wish to use this content in any manner, you need written permission.
Contact Anu Dharmani for details.