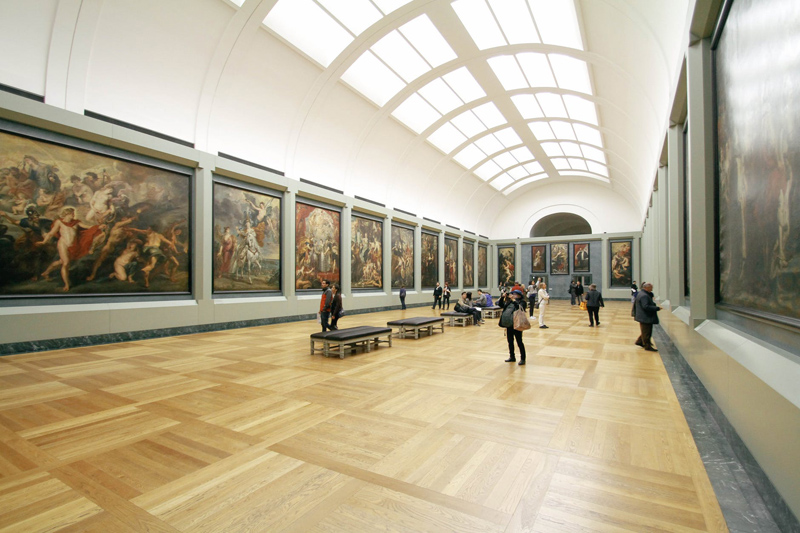 There are lots of books, movies, and TV shows that feature musuems in their story lines. Check out some of them!
Archives on TV – Who Do You Think You Are?


Archives, libraries and museums figure prominently on the hit NBC show Who Do You Think You Are? The series traces the genealogy of celebrities, often with surprising results.
Artifacts on TV – American Restoration


This series, featuring Rick's Restoration in Las Vegas, provides a glimpse into the complicated and often pricey world of antique repair and restoration.
BOOK REVIEW - Museum Registration Methods


This wonderful one-stop shopping publication provides an excellent overview of collection management processes and procedures for new and experienced museum professionals.
BOOK REVIEW - The Secret Cemetery


The Secret Cemetery is a ground-breaking new book on the rarely studied contemporary use of cemeteries. Using extensive interviews and questionnaires with mourners at several London cemeteries, a fascinating picture emerges.
BOOK REVIEW - You Can't Take a Balloon ...


This comic book style children's book weaves the masterpieces of the Metropolitan Museum of Art into the tale of a young girl's balloon as it travels the streets of New York City!
BOOK REVIEW – Driving Mr. Albert, A Trip Across America with Einstein's Brain


Part travelogue, part memoir, part coming-of-age story – sprinkled with mini history lessons and side trips to quirky museums – this fresh and witty book is a must-read!
BOOK REVIEW – 100 Dresses


This book is truly eye candy for anyone interested in fashion history!
BOOK REVIEW – Behind the Museum Door


This one-of-a-kind book of poems about museums mixes art, science, and history with the art of poetry writing.
BOOK REVIEW – Brooklyn's Green-Wood Cemetery


What a historic journey of New York City's movers and shakers!
BOOK REVIEW – Exhibit Labels


Exhibit Labels by Beverly Serrell is a wonderful introduction for the novice museum writer, as well as a guide to improving the well-seasoned writer's exhibit label copy.
BOOK REVIEW – Fancy Nancy at the Museum


This adorable children's book feature a museum field trip and new vocabulary words.
BOOK REVIEW – If Dishes Could Talk


If you're looking for one book that will give you a great overview of old china, this is it!
BOOK REVIEW – Maisy Goes to the Museum


This children's book is a great introduction to museums for kids 2 and older!
BOOK REVIEW – Museum Trip


This picture book tells the story of a fun, mysterious trip to an art museum.
BOOK REVIEW – Museums in Motion


Museums in Motion covers every aspect of the museum field – from collecting and preserving artifacts to exhibiting and interpreting them. The book is a wonderful introduction to the field for both students and museum visitors.
BOOK REVIEW – Only Yesterday


This book about the Roaring Twenties, written in 1931, has both a contemporary and historical perspective on the decade. A must read for any 1920s enthusiast!!
BOOK REVIEW – The Glitter and the Gold, Consuelo Vanderbilt's Memoirs


If you've ever wondered what it was like to live as a member of the upper crust in the Gilded Age, this book is for you!
BOOK REVIEW: Corsets – A Visual History


This book is full of vintage illustrations of that garment we love to hate – the corset!
BOOK REVIEW: Silent Cities – The Evolution of the American Cemetery


Written by prominent historians, this hard-to-find book about cemeteries is definitely worth reading!
CATALOG REVIEW – Wedded Perfection


The thick catalog that accompanies the exhibit Wedded Perfection is an amazing review of the gowns featured in the show. But it also includes extensive essays on the history of the American wedding.
How to Create an Exhibit on a Shoestring Budget


All you ever wanted to know about creating your first museum exhibit! This ebook contains advice from a professional curator, including photos, charts, worksheets, samples, lists, and MORE! Learn about what goes on "behind the scenes" in a museum.
How to Write a Local History Book


Writing a local history book is a wonderful way to contribute to your community! Read on for some advice from an experienced author.
JOURNAL REVIEW – White House History


If you're interested in the history of America's most famous residence – and its residents! – for more than two centuries, the journal White House History is for you!
Museums in the Movies – National Treasure


Just what would happen if there WAS a secret map hidden in invisible ink on the back of the Declaration of Independence? In this "Ocean's Eleven meets Indiana Jones" flick, you'll be whisked to some of our country's most important historic sites!
Museums in the Movies – Night at the Museum


With a sequel about the be released, be sure you see the original movie first!
Museums in the Movies – The Maiden Heist


This quirky comedy about three museum security guards who plan to steal their favorite pieces of art to prevent them from leaving the country is a must-see for anyone who loves museums!
New Museum Careers Ebook


The ebook A Museum Career Handbook: Practical Advice for Navigating Your Career in the Museum Field is intended as a guide for new museum professionals, as well as museum studies students who will soon be entering the field.
New Series of Ebooks – Museum Trips!


Written by a museum curator and director of education, the "Museum Trips!" series of ebooks explores the museums and cultural attractions in one city, including hotel and restaurant recommendations, with lots of pictures of exhibits!
Editor's Picks Articles
Top Ten Articles
Previous Features
Site Map
Content copyright © 2018 by . All rights reserved.
This content was written by . If you wish to use this content in any manner, you need written permission.
Contact Kim Kenney for details.